16 May 2018
PhD student wins Miklós Tomka Award
Prize
Church historian Emil Hilton Saggau wins international award for his paper on Orthodox communities in Eastern and Central Europe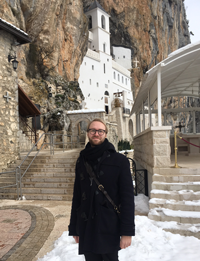 PhD student at Faculty of Theology Emil Hilton Saggau receives praise from his international colleagues in the The International Study of Religion in Eastern and Central Europe Association (ISORECEA).
He receives the Miklós Tomka Award for the best conference paper for the Association's conference. The award is given at Szeged University, where a special ISORECA conference for the International Association for History of Religions (IAHR) is held. The Award is given to early career scholars, with a special focus on PhD students.
Emil Hilton Saggau's contribution has the title (Un)-blocking the sacred: new perspectives on the religious revival in South East Europe. The paper nuances the dominating view that the revival of the orthodox communities is driven by nationalism. With focus on Serbia, Macedonia and Montenegro the article demonstrates that the dominating view on the connection between religion and nationalism blocks for a deeper understanding of the religious revival in Central and Eastern Europe.
The article will be published in the journal Religion and Society in Central and Eastern Europe.