16 February 2022
Traditions and adaptation in Tibesti – A three-part article series about the Tibesti region and northern Chad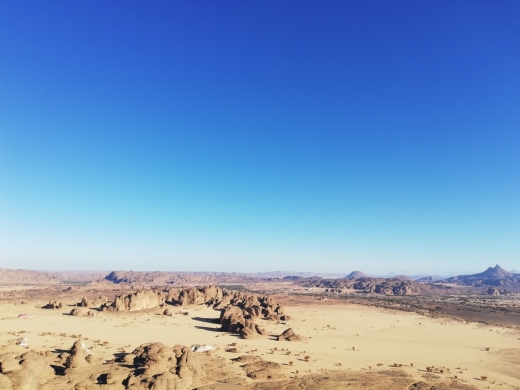 Tibesti and northern Chad came on the media map when President Idriss Déby died under mysterious circumstances in April 2021 just after his re-election. For perhaps that was where he was killed. In a three-part article series, Associate Professor Stig Jensen has co-authored with Peter Hofer about the Tibetsi region, norther Chad with a special focus on the Teda people who are one of the dominant groups in the region.
In the first article "Tibesti - Chad's mysterious north" Associate Professor Stig Jensen and Peter Hofer explain that in recent decades, under the leadership of former President Idriss Déby, Chad has gained the status of one of the most stable countries in central Sahara-Sahel. However, this stability seems threatened by the sudden death of Idriss Déby in April 2021.
Read the first article here
In the second article titled "Chad's paradox - a national bankruptcy estate with a local boom" they address the apparent paradox of national bankruptcy and local prosperity. " Associate Professor Stig Jensen and Peter Hofer explain that in the national bankruptcy estate of the Sahel belt on the south side of the Sahara, there are areas that are doing well, namely Tibesti in the harsh north. The growing economic activities in Tibesti have made Bardaï a central marketplace with constant growth.

Read the second article here
In the third and final article "Traditions and adaptations to change in Tibesti", Associate Professor Stig Jensen and Peter Hofer addresses the Teda people in the Tibesti region of northern Chad and take a closer look at how the culture and identity of the Teda people is under pressure. It is the classic story of modernism versus traditions, but also the essence of education and religious dogmatism.
They further that the key is to understand that the Tedas, who have traditionally lived in one of Africa's most inaccessible areas with extreme living conditions, have in recent decades more or less voluntarily been integrated into globalization. One of the clearest examples is how the Tedas have become involved in the market economy, which can be seen in particular through the growing activity related to transit trade and gold mining.
Read the third article here
All three articles are in Danish