Private Life in the English Country House: An Interdisciplinary Workshop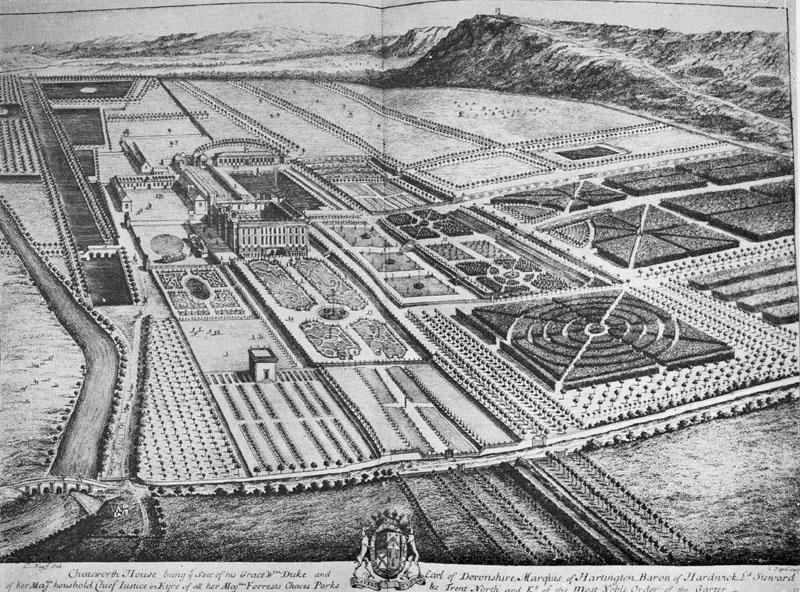 What can a combined architectural and intellectual history bring to privacy studies?
The answer was evident to Michel Foucault. The study of medical architecture built for the visibility of bodies provided an initial insight into a system of centralized observation that extended to penal institutions and education. Walls could talk for Foucault, and they told stories of repression and surveillance of sexuality; a history of space is a history of powers. Spaces can be filled with representations of power through iconographic themes informing the viewer about the status of its owner.
The English country house in the long seventeenth century provides an exciting locus to examine the question of privacy from an interdisciplinary angle. The innovations in art and architecture offer a breeding ground for new developments in intellectual culture. Can we make the walls of Chatsworth House and Hardwick Hall talk? Moreover, what would they tell us?
This seminar will gather scholars from various disciplines to discuss the following themes from a privacy angle:
EDUCATION: The early education of the nobility took place at 'home' and a tutor was hired. Thomas Hobbes is perhaps the most famous tutor, having taught the second and third Earls of Devonshire. We know that Hobbes had a very close relationship with the second Earl, but there is still more to learn about the education he provided. It is interesting to note that Hobbes's hire was a consequence of the failure of the previous tutor's surveillance of his pupils' sexuality.
SEPARATIONS: What can the specialization of rooms tell us about privacy? For instance, the seventeenth century saw the development of a specific room called a 'library', by which the book collection extends and becomes a social space. In other words, the history of the private library is one of publicization within the household. This narrative goes against the other narrative of other rooms tending towards greater privatization.
ICONOGRAPHY: Hardwick Hall is famous for its exquisite collection of Elizabethan tapestries and embroideries. What can the themes depicted tell us about the personal taste of Bess of Hardwick? Furthermore, what can the choice of iconographic themes during the rebuilding of Chatsworth almost a century later tell us about the taste of the first Duke of Devonshire? Is there a differentiation between the iconographic topics depending on the level of accessibility of rooms, and were the subjects depicted used as a means to convey political or cultural messages to the visitors. 
Schedule for the seminar: 
9:00-9:30: Welcome & Presentation of the Centre for Privacy Studies, by Mette Birkedal Bruun, Sanne Maekelberg & Frank Ejby Poulsen.
09.30-10.30: Reading Rhetoric at Hardwick Hall, by Timothy Raylor.
10.30-10.45: Break
10.45-11.45: The Minor Morals of an English Gentleman: Philosophical Ethics and the Virtues of Civil Conversation, by Noah Dauber.
11.45-13.00: Lunch
13.00-14.00: Out of the Closet: The Privacy of Knowledge Construction in the 17th-Century Devonshire Library, by Sanne Maekelberg & Frank Ejby Poulsen.
14.00-15.00: "A Growing Feeling for Privacy": rooms and room use in the English Country House, by Kate Retford.
15.00-15.30: Break.
15.30-16.30: Between Public and Private: The Painted Hall at Chatsworth as "Lieu de memoire",  by Christina Strunck.
16.30-17.30: Discussion and concluding remarks.
Register for in-person participation here.
Participants:
Noah Dauber
Noah Dauber is Associate Professor of Political Science and Director of the Jewish Studies Program, at Colgate University, Department of Political Science. He has published widely on Early Modern political thought. He is the author of State and Commonwealth: The Theory of the State in Early Modern England, 1549-1640 (Princeton University Press, 2016). He is working on his second monograph, on Thomas Hobbes, entitled The Reformed Ethics of Thomas Hobbes. He has published several articles and chapters on Early Modern political thought: "Political Thought" in Interpreting Early Modern Europe, eds. C. Scott Dixon and Beat Kümin (Taylor & Francis/Routledge, 2019); "Anti-Machiavellism as Constitutionalism: Hermann Conring's Commentary on Machiavelli's Prince," Special Issue on Anti-Machiavellism, History of European Ideas 37 (2011), pp. 102-112; "Deutsche Reformation: Phillip Melanchthon," trans. Heidi Engelmann, in Politischer Aristotelismus: Die Rezeption der aristotelischen Politik von der Antike bis zum 19. Jahrhundert, eds. Christoph Horn und Ada Neschke-Hentschke. J. B. Metzler, 2008, pp. 173-191.
Title: The Minor Morals of an English Gentleman: Philosophical Ethics and the Virtues of Civil Conversation
Abstract: 
The usual accounts of the mentalities of early modern gentlemen have struggled to make sense of the role of their extensive studies of classical virtue theory in forming their outlooks. They are often said to be "neo-Stoics" of one sort or another, and attempts have been made to try and map a generational shift from  Elizabethan to Jacobean gentlemen in terms of the shift from golden age to silver age Latin literature. The textbook Aristotelian ethics that the gentlemen studied with their tutors, either at university or in the country house, is usually dismissed as irrelevant to their mature outlook and social position, which is usually described in terms of the conduct literature of "civil conversation." In fact, young gentlemen first encountered the ideals of civil conversation in their textbook philosophy and then in the courtesy manuals. This paper examines the treatment of the "virtues" of civil conversation in the textbooks used by Thomas Hobbes to teach William Cavendish of Hardwick Hall and Chatsworth to evaluate what it might have meant to have Aristotelian virtue ethics at the core of the gentlemanly outlook.
Sanne Maekelberg and Frank Ejby Poulsen
Sanne Maekelberg is a Postdoctoral Researcher in architectural history at the Centre for Privacy Studies in association with the Royal Danish Academy, and project manager of the MSCA ITN PALAMUSTO – Research and Training for the Palace Museum of Tomorrow. Her research focuses on privacy and representation in early modern noble and monarchical court architecture. She holds a PhD in architectural engineering from the KU Leuven (2019).
Frank Ejby Poulsen is a Postdoctoral Researcher in intellectual history at the Centre for Privacy Studies, University of Copenhagen. He holds a PhD in history from the European University Institute (2018). He is working on a forthcoming monograph, Cosmopolitan Republicanism in the French Revolution: The Political Thought of Anacharsis Cloots and Thomas Paine, which won De Gruyter's 10th Anniversary Open Access Award. His work has been published in History of European Ideas, Global Intellectual History, and Early Modern French Studies. 
Title: Out of the Closet: The Privacy of Knowledge Construction in the 17th-century Devonshire Library
Abstract:
Throughout the seventeenth century, the story of the private library is one of architectural and intellectual transformation of knowledge privacy. This paper aims to retrace the formation of the "Devonshire library", which comprised the ensemble of books that the Cavendish family had at their various estates, including Chatsworth, the old and the new Hardwick Hall and their London residence. By combining inventories, account books and catalogues, we reconstruct the physical and intellectual environment of knowledge gathering at Chatsworth and Hardwick. The "library" evolved from a private closet containing only a couple of hundred books locked in chests to a communal room with bookshelves with over 1600 books accessible to the household, the servants, and a restricted public.
Timothy Raylor
Timothy Raylor is Stephen R. Lewis, Jr. Professor of English and the Liberal Arts at the English Department of Carleton College. He has published widely on seventeenth-century English literature, philosophy, and politics, with a specific expertise on Thomas Hobbes and the Cavendish family. On Hobbes, among many publications, he is the author of Philosophy, Rhetoric, and Thomas Hobbes. Oxford: Oxford University Press, 2018. Most recently, he has published with Stephen Clucas, "The Clarendon Edition of De corpore: A Progress Report," Hobbes Studies, 34.1 (2021), 86-97, and "Kenelm Digby's Two Treatizes and the Reception of the Galilean Science of Motion," Galilaeana: Studies in Renaissance and Early Modern Science, 17 (2020), 91-116. On Hobbes and tutoring, he has recently published also "Hobbes and the Hardwick Digests," Hobbes Studies, 31.1 (2018), 1-24, and "Andrew Marvell: Traveling Tutor," Marvell Studies, 2.1 (2017). On the Cavendish family, he has published most recently: "A Hardwick Scandal of the Early Seventeenth Century: William Cavendish, Lady Arbella Stuart, and the Case of Margaret Chatterton," Derbyshire Archaeological Journal, 134 (2014), 204-20. "William Cavendish, Galileo, Hobbes and the Mechanical Philosophy," in Authority, Authorship and Aristocratic Identity in Seventeenth Century England: William Cavendish, First Duke of Newcastle and his Political, Social and Cultural Connections, ed. Peter Edwards and Elspeth Graham. Rulers & Elites: Comparative Studies in Governance, 9. Leiden and Boston: Brill, 2016. pp. 173-95.
Title: Reading Rhetoric at Hardwick Hall
Abstract:
This paper will contribute to the study of early modern pedagogy and, more specifically, to our understanding of noble education in the great house, by examining some of the surviving material evidence of Thomas Hobbes's instruction of William Cavendish, third earl of Devonshire, 1631-c.1634, at Hardwick Hall in North Derbyshire. It will focus on rhetorical instruction, by examining an unpublished manuscript digest of Aristotle's Rhetoric penned, in Latin, but with some passages transcribed from the Greek, largely by Cavendish, but with corrections and additional passages by Hobbes. The paper will investigate the composition of the manuscript (addressing some puzzling questions about translation, dictation, and disposition) and will comment on its compressions of and elaborations on the original. In so doing it will point up and examine the curricular implications of Hobbes's integration of examples and illustrations from other, non-Aristotelian texts (demonstrating the integration of rhetoric with other areas of study, and of this volume with other volumes available at Hardwick). It will attempt to draw out the implications for our understanding of the place of rhetoric both within a particular noble household and also, more generally, within the broader pedagogical project of aristocratic education.
Kate Retford
Kate Retford is Professor of Art History at Birkbeck, University of London. She has published widely on eighteenth-century British art, particularly on portraiture and the country house art collection. Her more recent work includes: Placing Faces: The Portrait and the English Country House in the Long Eighteenth Century, co-edited with Gill Perry et al. (Manchester University Press, 2013) and The Georgian London Town House: Building, Collecting and Display, co-edited with Susanna Avery-Quash (Bloomsbury Academic, 2019). Her book on the eighteenth-century British conversation piece, The Conversation Piece: Making Modern Art in Eighteenth-Century Britain, was published by Yale University Press in 2017, winning an Historians of British Art award. She is currently working on a monograph about print rooms in eighteenth- and early-nineteenth-century British and Irish country houses, and developing a project looking at the presentation of the British country house as 'family home'.
Title: "A Growing Feeling for Privacy": rooms and room use in the English Country House 
Abstract:
The English architectural historian Mark Girouard died a couple of months ago, prompting reflections on his impressive contribution to our understanding of the country house. Life in the English Country House: A Social and Architectural History, published by Yale University Press in 1978, was a seminal moment for scholarship, crucially shifting attention from architects to owners, and to their houses as 'machines for living in'. As part of this, Girouard provided a powerful narrative of increased desire for privacy in these properties, resulting in the physical distancing of servants and the introduction of features such as corridors. 
In this paper, I will reflect on the legacy of Girouard's narrative, and subsequent discussions of the relationship of the public and private in the country house interior. Using a number of examples, I will consider how these concepts have been problematised. I will look at the critical role of sociability, and the degree to which the boundaries between public and private could shift depending on the event, the time of year and even the time of day.  
Christina Strunck
Christina Strunck is chair of the Institute for Art History at Friedrich-Alexander-Universität, Erlangen-Nürnberg. Her studies at the University of Cambridge and time as lecturer at the University of York sparked her interest in British art. In numerous publications, she has addressed processes of cultural exchange within Europe. Her areas of specialization are Italian-French relations in the early modern period and the relationship of these Catholic cultures to the British-Anglican tradition. Relevant to the latter research field are her edited volumes: Faith, Politics, and the Arts: Early Modern Transfer between Catholic and Protestant Cultures (Harrassowitz, 2019); Kulturelle Transfers zwischen Großbritannien und dem Kontinent, 1680–1968 ("Cultural Transfer between Great Britain and the Continent, 1680–1968," Imhof, 2019); and Palladio, Vignola & Co. in Translation: Die Interpretation kunsttheoretischer Texte und Illustrationen in Übersetzungen der Frühen Neuzeit ("Palladio, Vignola & Co. in Translation: The Interpretation of Art-Theoretical Texts and Illustrations in Translations of the Early Modern Period," Logos, 2020). Her most recent monograph, Britain and the Continent, 1660‒1727: Political Crisis and Conflict Resolution in Mural Paintings at Windsor, Chelsea, Chatsworth, Hampton Court and Greenwich (De Gruyter, 2021), contains an extensive chapter on the Painted Hall at Chatsworth.
Title: Between Public and Private: The Painted Hall at Chatsworth as "Lieu de memoire"
Abstract:
Due to its architectural form and position, the Painted Hall at Chatsworth operates as both a public and private space. Its wall and ceiling paintings present a blend of ancient and modern history in order to convey specific messages to specific audiences. This paper will undertake a "public" and a "private" reading of the murals, exploring the ways in which British history and family memories intersect.