31 October 2018
First Challenge Seminar with Prof. David Dreyer
On 25 October Centre for Privacy Studies had it's world premiere on the Challenge Seminar format.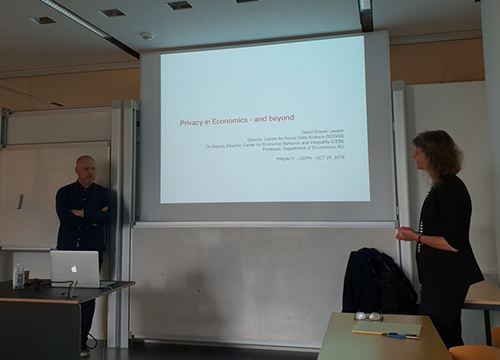 Economics Professor David Dreyer was invited to give a presentation on 'What's private in Private Economy.' He opened the presentation by giving the participants a crash course in Economics and then touched upon many relevant economic perspectives on privacy. He argued that in regards to Economics, privacy can be viewed as a restraint on policymaking. This makes it a key component in regulations, and leaves a great impact on the economy.
Prof. David Dreyer also challenged the participants with the notion of 'the Price for Privacy' and 'Privacy as a Commodity.' This sparkled a fruitful debate.
Next Challenge Seminar is scheduled 13 December 15-17 o'clock. The question this time will be ' What is private in Pharmaceutical-, Life Science- & Biotecht Law?' with Professor of Biotechnology Law Timo Minssen.
Read more and sign up here.