24 October 2018
New Paper by Mette Birkedal Bruun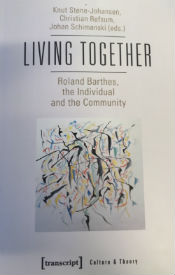 The Director at PRIVACY Mette Birkedal Bruun has made a contribution in the anthology Living Together: Roland Barthes, the Individual and the Community. It is edited by Knut Stene-Johansen, Christian Refsum, and Johan Schimanski.
The publication consists of different essays from 30 scholars, each examining one of the French Philosopher Roland Barthes concepts exploited in the published lectures "Comment vivre ensemble" or "How to Live Together". Here, Barthes contemplated the possibility of creating a community capable of creating collective rules and at the same time have space for individual lived life.

Mette Birkedal Bruuns paper explores Roland Barthes' Enclouse/Clôture to understand how it "works as a physical boundary and a demarcation of privacy." To show this, she accounts for the conditions for and notions of privacy within the monastic walls.