31 October 2018
PRIVACY is making PhD student Therese Tamm Selander see new connections in her research
Centre for Privacy Studies has proved to be a good working environment for the PhD Student Therese Tamm Selander. Although her research does not focus on privacy per se, the way of thinking fits her academic interests.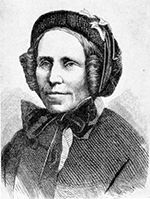 Therese Tamm Selander is currently adding the last touch ups to her thesis on Mathilda Foy (1813-1869), philanthropist and frontwoman of the new evangelical revival movement in Sweden, and her practices of private reading, writing and praying, using perspectives of "Lived Religion." In her PhD-dissertation Selander will look into the social settings of these religious practices to examine the interaction between Mathilda Foy's social world and her individual religious experience.
Selander's research roams the everyday life of the women and children of the Christian community of mid-nineteenth century and their individual relationship with God. Her work distinguishes itself from the traditional church historical research, usually centered on church, priests and their function in society. Analyzing the private diary of Mathilda Foy, Selander sheds light on Foy's day-to-day description of her emotional and personal relationship with God.
"I have always wanted to have something to do with the private, to move my studies into that sphere. I have never used it as a term, but here at PRIVACY the subjects I have been interested in are becoming more relevant. Staying here has made it possible for me to put things into words."
A good working environment
During the lunch breaks at PRIVACY, the scholars usually get together and amongst inside jokes and other informalities, there is a good opportunity to discuss notions of privacy. For Therese Selander, joining the PRIVACY team, even if only for three months, has turned out to be very fruitful.
"One thing is to participate at a seminar. Another is to be at a place, where the informal research conversation is appreciated as much as here at PRIVACY. The team works at the center, we meet for lectures and seminars, we have our lunch together, and often thoughts and ideas sprout over cups of coffee in the kitchen. When I do my research, I have been used to sitting alone with my computer. At PRIVACY, there is an emphasis on research being a creative process, hinging on scholarly exchange. This way of thinking – and talking – adds an extra element to the work."
Therese Tamm Selander is a PhD student in Church History at Uppsala University, Sweden. She has her background as an Occupational Therapist and has her Cand.theol degree from Uppsala University, Uppsala and Norwegian School of Theology, Religion and Society, Oslo. She is a member of the Nordic Network for Revival Research (NORDVECK). She joined the PRIVACY team in August and is staying until the end of November.