3 September 2018
Visiting Scholar at Centre for Privacy Studies
Michèle Cornelia Jacqueline Seehafer is visiting scholar at PRIVACY from September 2018 to the end of April 2019. She is funded by the Swiss National Research Foundation.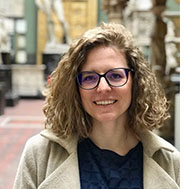 Michèle's research will explore aspects of materials and materiality by focusing on specific spaces constructed in Copenhagen during the seventeenth century and directly connected to the Royal Danish Kunstkammer. She aims to shed new light on the selected rooms by investigating the particular use of the materials, values, and meanings connected with them as well as the sensory and emotional qualities of those materials.
Michèle looks forward to working with the Privacy-scholars on questions concerning the interrelationship between the perception of specific collection rooms, aspects of privacy and spatial theory during seventeenth century Denmark. Moreover, she is specifically interested in how far the notion of "private" provides new insight to her own studied rooms and their ambiguous roles of being both space-creating and space-structuring.
Michèle has studied Art History, Business Economics, and Curatorial Studies at the University of Bern. Since June 2016 she has been working on her Ph.D. in the framework of the international and interdisciplinary project Materialized Identities: Objects, Affects, Effects in Early Modern Culture, 1450–1750, where she is part of the subproject Mutable Matter: Netherlandish Painters on Values, Uses and Effects of Gold directed by Professor Christine Göttler. She is also a member of the Interdisciplinary Cultural Studies doctoral program at the University of Bern.
We are looking forward to working with Michèle at Centre for Privacy Studies.