3 November 2020
PRIVACY Summer School student receives the prestigious Westin Scholar Book Award
PRIVACY Summer School student Kathrine Hyldgaard Petersen, master student at the Faculty of Law, Copenhagen University, has received the prestigious Westin Scholar Book Award.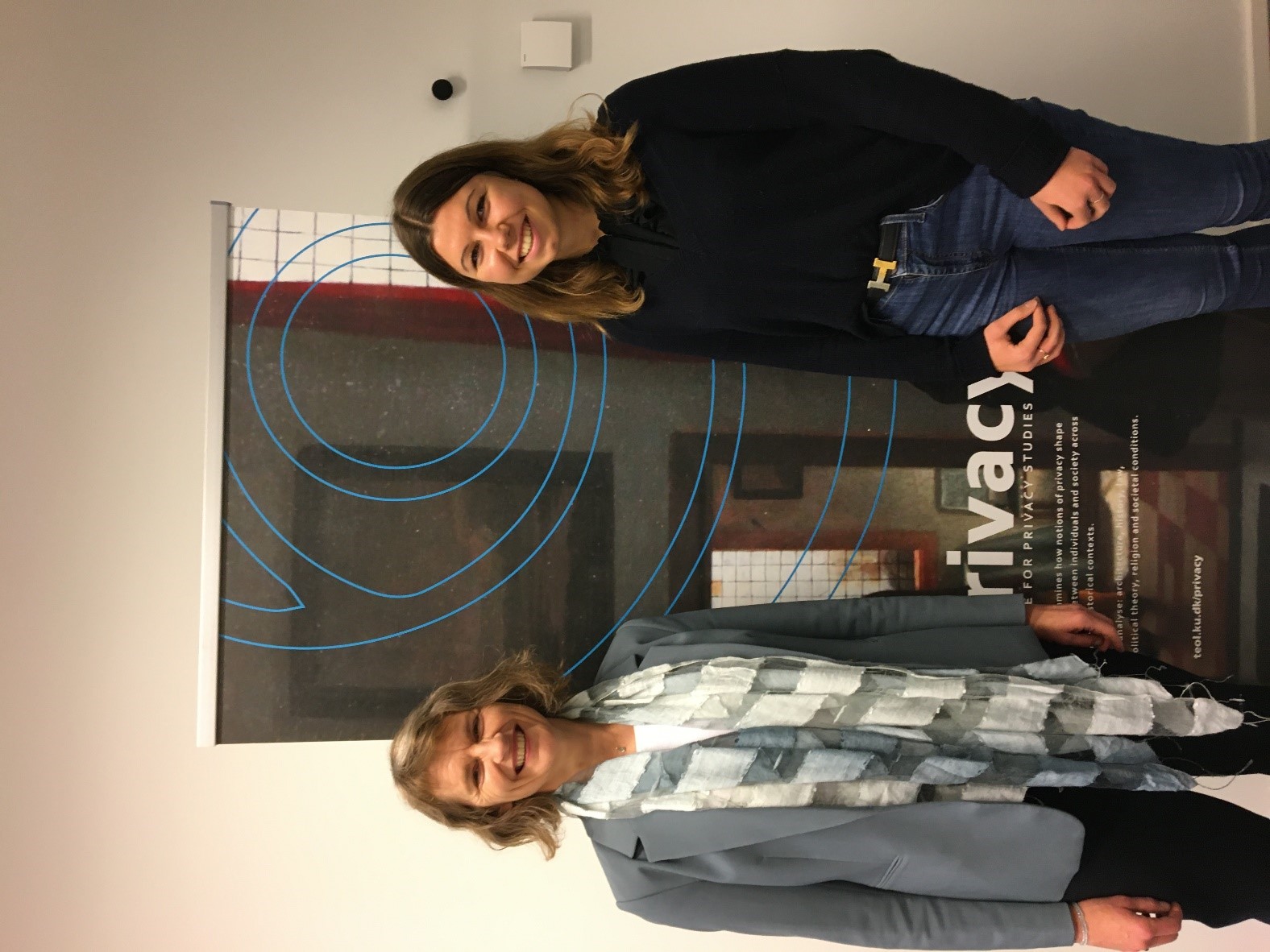 Mette Birkedal Bruun and Kathrine Hyldgaard Petersen
The IAPP (The International Association of Privacy Professionals) has created a fund to support students of affiliated educational programmes who are identified by their professors as future leaders in the field of privacy or data protection.
We asked Kathrine what this award means to her, and which topic she chose for her Summer School paper:
In August, I attended the summer course "Privacy challenged in past, present and future: A multi-disciplinary approach." It was a very interesting course where I learned a lot about examining topics from different disciplines and eras – something which is not a part of my regular course of study.
I am on my last year of studying Law at University of Copenhagen, and therefore wrote my Summer School paper on the right to privacy. I based it on an American article written in 1890 by two prominent lawyers, Warren and Brandeis. The article deals with their opinion on how the right to privacy was integrated into the existing fundamental legal principles of the time. I compared this historic perspective with the contemporary protection of the right to privacy through human rights and GDPR (General Data Protection Regulation) legislation based on the modules on surveillance, health data and human rights, but also drawing on the summer school discussions of representation of privacy in artworks and a discussion of the heuristic zones of the Centre for Privacy Studies. I examined how big tech companies today use our data, and whether or not the protection of privacy as it was worded in 1890 would still be sufficient today. My conclusion is that our idea of privacy today has been weakened. As a way to receive services from tech companies, today we are willing to give up parts of our privacy. The current legislation is not sufficient to protect us from this.
I am truly honored that Mette Birkedal Bruun has recommended me for the Westin Book Scholar Award issued by International Association of Privacy Professionals (IAPP). In connection with the award, I will receive a membership to IAPP and the opportunity to take some of their courses on privacy. Moving forward as a lawyer, it will be useful to have knowledge of legislation on privacy in America and Europe, which I can gain through IAPP's online courses.
More information regarding the IAAP is available here