Kierkegaard – The Individual in Modern Society
Kierkegaard – The Individual in Modern Society, summer course 2023 August 7 to August 25
Credits: 15 ECTS

Course syllabus and course outline 2023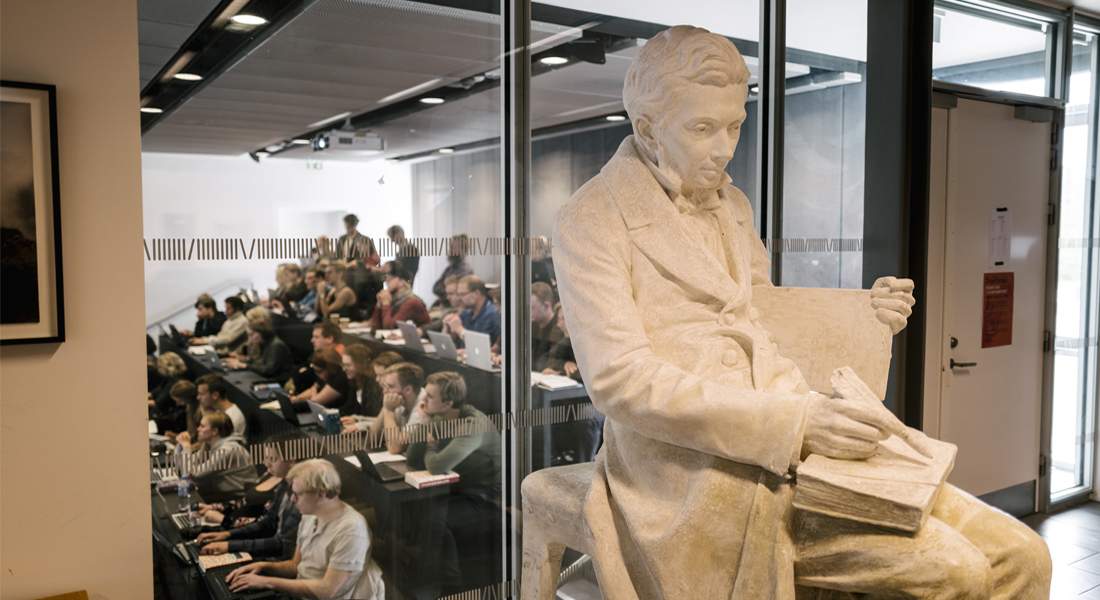 Once again, the Faculty of Theology and the Søren Kierkegaard Research Centre are pleased to offer a course on the thought of Søren Kierkegaard in his hometown and at his own university. In this concentrated summer course, you will study alongside students from Denmark as well as countries throughout the world.
The summer course is a study of the works of Copenhagen's most radical author, the "father of existentialism," Søren Kierkegaard (1813-1855). Kierkegaard's entire authorship is centered around the existential project that every human being is confronted with: to become oneself and none other than oneself. And as he sees it, becoming oneself does not happen passively and is never achieved once and for all, but requires constant effort. He thus often describes this project as one of taking responsibility for "choosing," "gaining," or "becoming oneself."
This course examines his witty, humorous, but also deeply earnest exploration of the psychology of self-identity. Kierkegaard's thoughts about the struggle for personhood take us through perhaps unexpected territories: beginning with the breakdown of pre-modern culture and society that have traditionally defined the self, he explores the destructive power of nihilism, the art of seduction, theories of beauty and boredom, a scathing critique of religious culture and politics, religious demands that conflict with ethical duty, the joy of being embodied here and now, and finally, love.
We will remain especially attentive to the ways in which Kierkegaard considers human relationships to be absolutely essential to understanding oneself and one's obligations to other human beings.
No field trip in this summer course
In general, class will take the form of a lecture followed by a dialogue between instructor and the students. Readings will be assigned for each class and the discussions will focus on these readings. Instruction will be in English, and we will refer to English translations of Kierkegaard during class, but you are welcome to read and consult translations in your native language.
Computer policy: No surfing or texting during class.
This course is open to third or fourth year undergraduate students as well as first year graduate students. You must have completed 120 ECTS points before the summer course begins. The course aims at students interested in philosophy, theology, literature and social sciences, though all disciplines are welcome; a background in philosophy is not required.
The assessment is based on two parts:
Course participation: Active class attendance (75% attendance). Active course participation is a prerequisite for writing the exam paper.
Undergraduate requirements: Familiarity with a reading list (primary and secondary literature) of 1,200 - 1,500 pages. A written paper of 24,000 – 28,800 characters approx. 10-12 pages (formally, 2400 characters per page, including spaces), based on 400-500 pages of primary literature.
Master requirements: Familiarity with a reading list (primary and secondary literature) of 1,200 - 1,500 pages.  A written paper of 36,000 – 48,000 characters approx. 15-20 pages (formally, 2400 characters per page, including spaces), based on 800-1,000 pages of primary literature.
Assessment: Danish 7-point grading scale and ECTS letter grading scale.
Final Paper due at 12 noon on 15 September.
Application and tuition fees
Application deadline is 1 June 2023. 

Application and tuition fees
Venue
Faculty of Theology, Karen Blixens Plads 16, 2300 Copenhagen S, Denmark.