International workshop: 'Jews, the Qur'an and Islam: Contacts and Influences'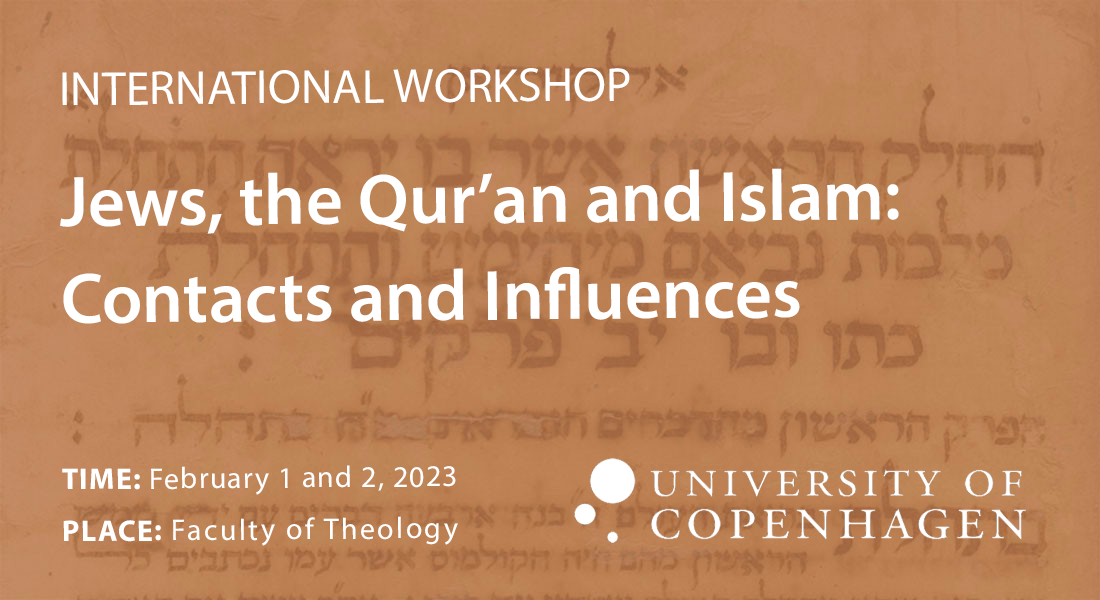 The workshop aims to explore how Jews approached the Qur'an and Islam from the Middle Age to the early modern period both in the lands of Islam and in Europe.
Through various sources and textual genres ranging from polemics, exegesis to Qur'anic translations, we will discuss how Islam was perceived, how the Qur'an was used and how the Jews in some contexts were influenced by the material, textual and theological aspects of the Islamic tradition.
The workshop will try to reflect the variety of the Jewish engagement with Islam and the Qur'an, which far from being monolithic, expressed in different ways across time and space.
Programme
See the programme for the full event here:
Online participation is possible via zoom here:
https://ucph-ku.zoom.us/meeting/register/u5Iqf-mpqzMoH9dWwLM8o4Igqhe0447XpYHh 
Related to the workshop is also two public lectures
The Mishnaic Moment: Jewish Law among Jews and Christians in Early Modern Europe by Joanna Weinberg, Professor emerita in early Modern Jewish History and Rabbinics, University of Oxford
February 1, 2023| 17:00 CET | The Danish Jewish Museum, Proviantpassagen
6, 1218 København K or via zoom:
https://ucph-ku.zoom.us/meeting/register/u5wlduGorzIvGNXMii2iB1ZcdeN41lux0Cus 
The Nahda and the Wissenschaft des Judentums: Arabs, Jews and the Critique of European Modernity by Susannah Heschel, Eli M. Black Distinguished Professor of Jewish Studies, Dartmouth College
February 2, 2023| 17:00 CET |University of Copenhagen, Faculty
of Theology, Karen Blixens Plads 16, 2300 København S – Kierkegaard Auditorium or via zoom:
https://ucph-ku.zoom.us/meeting/register/u5cvcO-upz4oHddwXESpx5H8QvMdhGanjVUj