THE CHILDHOOD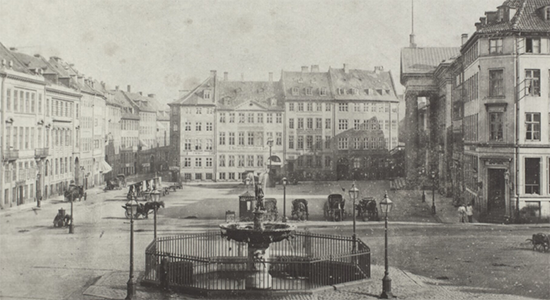 The property on the right in the picture right next to the Courthouse with the distinctive brooches and flagpole on the roof rigde belonged to the Kierkegaars family until 1847 and was not demolished until 1908.

The Kierkegaard Family
Søren Aabye Kierkegaard was born May 5, 1813 on Nytorv 2 in Copenhagen as the youngest of seven children.
His mother Ane was around 45 years old, his father Michael, 56. We know very little about Ane. She managed to read and write, but intellectually she was miles behind her spouse Michael, who as a boy left a life of abject poverty on the Jutland heath in order to become an apprentice in a dry-goods store in Copenhagen. 
He later established himself as a wholesaler and dealt foreign luxury goods like sugar, coffee, cotton and silk, and he also worked as a real estate agent and stockbroker. He made advantageous investments during the financial crisis that followed the war with England and the bankruptcy of the national bank in 1813, and afterward emerged with assets that would become the material basis for his youngest son's literary activity.       
"I was born in 1813, the wrong fiscal year, in which so many other bad banknotes were put into circulation, and my life seems best compared to one of them. There is something of greatness about me, but because of the poor state of the market I am not worth much. / And at times a banknote like that became a family's misfortune." - (Journalen JJ. source: SKS.dk)
The Little Fork
Søren Aabye wasn't an easy child. One member of the extended family called him a terribly spoiled and naughty boy who always hid behind his mother's skirts, while another added more laconically that Søren Aabye usually sat in a corner and pouted. At home he went by the nickname "The Fork" because when once asked what he'd like to be someday, that was his answer. "Why?" "So I could 'spear' everything I wanted to at the dinner table." "But what if we come after you?" "Then I'll spear you." And the name stuck with him, thanks also to his precocious tendency to make satirical remarks.   

School Days and Upbringing
In accordance with his father's rural virtues of simplicity and thrift, Søren wore a course black tweed jacket with a short tailed shirt. And while the other boys were allowed to wear boots, Søren Aabye had to put up with thick wool stockings from his father's shop. Not long after he was admitted to the School of Civic Virtues in 1821, he was nicknamed "Søren Sock." 
With his firm principles, his remorseful ruminations, and his passionate imagination, Michael Kierkegaard made a deep impression on his seventh son, who depicts his father in his journals with devotion—and with a shudder: 
"As a child I was raised with Christianity in strictness and seriousness; humanly speaking, it was a demented upbringing: already in my earliest childhood I was damaged by impressions given to me by that the melancholy old man, who had himself been crushed by them. A child, in a demented way dressed up as an old man. Frightening! " - (Synspunktet for min Forfatter-Virksomhed. source: SKS.dk)